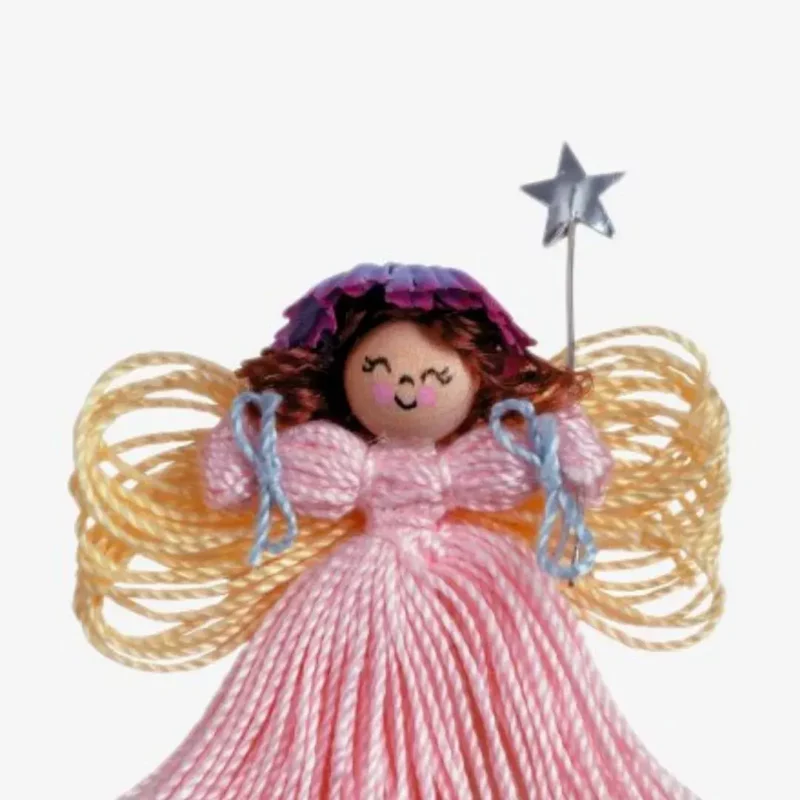 Hey, crafters! This week, we'll be sharing a quick tutorial on how to create this pretty little angel – an adorable token you can give to show support to a loved one. Join us, and dare your mind to create!
Materials you'll need:
DMC Art. 117 Cotton Threads (3 colors, 1 skein each)

Color A – pink dress (your choice)

Color B – wrist bows (DMC 800)

Color C wings (DMC Ecru)

Brown doll hair

Artificial flower (1pc.)

1/2″ silver star-shaped stickers (2pcs.)

1/2″ diameter wooden bead

2-1/2″ x 3″ piece of cardboard

Toothpick

Ruler

Scissors

Black permanent marker

White craft glue

Hot glue gun & glue sticks
STEP 1. Use marker to draw facial features on wooden bead. Let dry.
STEP 2. To make body, remove labels from Color A and cut skein in half across middle, creating two 3″ folded sections. Remove 4 lengths of floss from the first folded group. Discard remainder.
STEP 3. Use one length of Color A to tie center of second section at 1-1/2″. (Diagram 1)
STEP 4. Divide top looped section in half & pull one half down to align with cut pieces to form skirt. Cut this loop half open and evenly trim skirt bottom. (Diagram 2)
STEP 5. Push top of loop down to waist, flattening to form arms at each side. (Diagram 3)
STEP 6. Use three lengths of Color A to tie in back at each shoulder and around waist, securing all skirt threads (Diagram 4)
STEP 7. Use remaining lengths of Color B to tie bows at wrists. (Diagram 5) Trim ends.
STEP 8. To make hair, cut two 3″ locks of curly hair. Apply craft glue to top of head and press one lock of hair into glue with curls extending down sides of head. Press a second lock into glue behind first lock, trim ends.
STEP 9. To make wings, wrap Color C around the 3″ length of cardboard 15 times, forming 3″ wings. Carefully remove from cardboard & tie in center using a 6″ length of Color C. Knot and trim ends.
STEP 10. To make halo, cut flower from stem leaving no length on stem.
STEP 11. Optional: To make wand, attach a star sticker to one end of the toothpick and attach the second star to the back of the first, sandwiching the toothpick between them. Use scissors to trim stars to smaller size if desired.
STEP 12. Use hot glue to assemble angel. Glue head to shoulders. Glue wings to back of angel covering hanger knot. For halo, glue flower to top of head. Place wand (if using) into angel hand and use dot of glue to hold. For hanger loop, cut an 8″ length of Color C, knot ends together, and glue knot to center back of angel and to back of head.